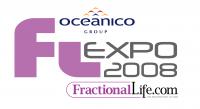 Real Estate TV, the TV channel exclusively dedicated to the world of property and now majority-owned by Fox International Channels, today announced its partnership with Fractional Life to become the exclusive Property TV brand at the forthcoming Fractional Life Expo 2008, 28 – 30 April, Broadgate Event Venues, City of London.
The largest and most diverse consumer fractional ownership and asset-sharing exhibition in the world, Fractional Life Expo 2008 will cater for the growing number of people who want to enjoy ownership of life's luxury items – without the ties, responsibilities and capital outlay of a complete purchase.
Organised by Fractional Life Limited, the event showcases the opportunities for shared ownership of a diverse range of luxury items, including property, yachts, jets, classic and supercars, racehorses, designer handbags and fine wines.
Bill Miller, Lead Sales Consultant for Real Estate TV – available on Sky channels 273/274 and Virgin TV to over 21 million adults in the UK and Ireland 24 hours a day – said "we've noticed a growing influx of property Clients interested in fractional ownership as a real alternative to 100% ownership and therefore it makes sense for Real Estate TV to be involved with the Fractional Life Expo to cater for this growing trend."
Real Estate TV will be filming the first ever UK programme dedicated to fractional property ownership in conjunction with Fractional Life, which will be due for broadcast later in the year.
Aaron Weddell, Editor of Fractional Life said "In these unpredictable times a lot more people are looking to "invest" in an enhanced luxury lifestyle together with greater flexibility as part of their property investment choice. Fractional property ownership is ideal for this and we look forward to working with Real Estate TV at the show and during filming."
The partnership also includes joint PR and promotional activity in the run up to and during the Expo.
For more information please log onto http://www.fractionallifeexpo.com.
ENDS
Notes to Editors
Fractionallife.com is the premier fractional web brand which gives you the inside track on what's happening in the current fractional ownership and asset-sharing marketplace.
The website is specifically designed to give the consumer the choice of the best of everything at a fraction of the cost, all under one roof in a 'fractional superstore'.
For more information please visit http://www.fractionallife.com
Real Estate TV is the UK's only independent TV channel exclusively dedicated to the world of property. The channel broadcasts 24 hours a day, 7 days a week on Sky, Virgin TV and via the award winning free broadband TV service at http://www.realestatetv.tv.
Issued 25th February 2008
Press release issued by Douglas Brown, Douglas Brown Associates, Tel: +44 (0)121 308 4092.