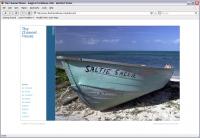 Smooth launched a new website for a very special holiday villa, the Channel House, in an attempt to unveil one of the best kept secrets in the Caribbean.
The Channel House offers peace and quiet to unwind or an opportunity to experience new challenges in spectacular surroundings. Surfing, windsurfing, parasailing, snorkelling, scuba diving, horse riding and other adventure activities are available locally for all abilities and ages.
Near the Channel House there is some of the best scuba diving in the world. Divers were among the first tourists to discover these islands and to explore the beauty of the extensive barrier reef.
The new website provides visitors with information about the house and the surrounding area, seeking to inspire visitors whether they are looking for a relaxing, creative, green or active holiday. The gallery on the site compliments the imagery that is a key feature of this very visual site.
Jane and Alexander Boswell acquired the historic Channel House on Providenciales, Turks and Caicos in 1999. Jane, who is an enthusiastic artist and art collector, comments: 'I have a strong interest in the development of architectural styles and their relationship to the surrounding landscape. I was very keen that the new website for the Channel House reflected this and I am very pleased with what Smooth have achieved.'
See the site at www.thechannelhouse.com