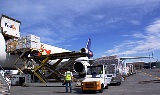 The Iceland based generic pharmaceutical company, Actavis, recently announced that its third-party sales division, Medis, has delivered around 30 million tablets of Atorvastatin to its clients in Spain. This is the first generic version of the blockbuster molecule to reach the Spanish market.
Atorvastatin efficiently regulates the blood cholesterol levels and is one of the most effective drugs used in the therapy of primary hypercholesterolemia. Atorvastatin tablets are subject to widely varying patent situations around the world, which is why Medis has invested significantly in different forms of the molecule. In Spain, the patent landscape is different to other Western European markets, and the originator product, containing Atorvastatin Calcium, is patented until 2010.
Medis is currently promoting three different dossiers for Atorvastatin and has been supplying a product suitable for Central Eastern Europe for almost two years. Medis' alternative generic, Atorvastatin Magnesium, can be launched in Spain now, as it has been approved by the Spanish authorities. Medis has worked closely with its clients on the preparations for the launch.
The world's top selling drug
Actavis has already launched Atorvastatin Calcium under its own brand name in 15 countries in Europe and Asia where there was no patent. Atorvastatin Magnesium will be launched in Spain under Actavis' own brand name shortly. Atorvastatin Magnesium is produced by Actavis in 10mg, 20mg and 40mg tablets. Pfizer, the originator, markets its product in Spain under the brand names of Cardyl® and Zarator®. Atorvastatin's US brand name is Lipitor®.
Annual sales of Cardyl® and Zarator® in Spain are approximately EUR 396 million (2008, IMS Health). Atorvastatin is currently the top selling drug in Spain, and indeed the world.