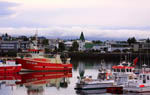 The small town in southwest Iceland, Hafnarfjordur not only prides itself in being an ideal port due to its location, but also as a great cruise ship destination, recently seeing the arrival of the iconic cruise ship, Le Boreal.
The luxurious Le Boreal cruise ship arrived four times this summer as part of its Iceland journey, with Hafnarfjordur being its last. On its route to Hafnarfjordur, the ship also stopped at other towns in Iceland including Akureyri, Grimsey, Isafjordur, Vestmannaeyjar and Grundarfjordur.
During its first three visits to the Port of Hafnarfjordur, the cruise ship stopped for two days and for three days on its final visit, providing disembarking guests with ample exploration time in the quaint town of Hafnarfjordur before flying back home from Keflavik, as well as those boarding for the onward journey to Greenland.
Hafnarfjordur is an ideal town to visit as it offers a wide selection of fun activities, such as swimming pools, local galleries, museums, a golf course, and horseback riding. Also, every summer, hordes of Norsemen invade the town for the annual Viking Festival, held in June.
Hafnarfjordur is also host to the beautiful Hellisgerdi Park, which has been wonderfully landscaped amongst the lava. Founded in 1922, the park has recently been given the addition of about 150 miniature bonsai trees – the northernmost bonsai collection in the world. Birdwatchers can also enjoy the Astjorn nature reserve, and for walkers there are many lovely routes in and around the town.
For further information about Hafnarfjordur, local activities and events, as well as its port, visit www.portofhafnarfjordur.is.