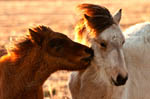 Nordic Travel is offering thrilling horseback riding holidays in Iceland, allowing visitors to experience the widely celebrated pure-breed of Icelandic Horse for themselves and discover why the breed has remained pure for over a thousand years.
There are various horseback riding tours provided by Nordic Travel suitable for riders of all levels. Nordic Travel also offers three different riding tours in the quaint town of Hafnarfjordur –  the Nature Comfort trip, Lava tour, and Viking tour, depending on the rider's experience.
The Nature Comfort trip is the ideal choice for beginners, where riders will experience beautiful riding tracks through bushy hills and moss covered lava fields. The Lava tour is an adventurous ride from the Ishestar Riding Centre into the lava fields surrounding Mt. Helgafell volcano, or to Lake Hvaleyrarvatn and into the Kaldarsel area. Finally, the Viking tour starts with an introduction ride into the lava fields surrounding Mt. Helgafell volcano to the old Kaldarsel sheep corral or to Lake Hvaleyrarvatn through lava fields and across beautiful hillsides, getting acquainted with horses and surroundings.
Another special tour with Nordic Travel is the Skagafjordur riding trip, where visitors can choose to ride for either 1, 2 or 3 hours.  This trip is ideal to get a first impression about riding an Icelandic Horse and to enjoy the unique Icelandic landscape on horseback. The Skagafjordur riding trip is suitable for beginners and intermediate riders.
All tours include riding gear, experienced and friendly guides, rain clothes (if needed) and helmets.
To learn more about horseback riding holidays in Iceland with Nordic Travel, visit www.iceland-nordictravel.com.
Photo: flickr.com/photos/olafur/