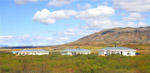 The newly launched luxury guesthouse company in Iceland, Grimsborgir Guest Houses has quickly found its own niche within the luxury travel market in Iceland resulting in favourable reviews online, including the popular travel website Trip Advisor.
Grimsborgir Guest Houses has rapidly established itself as a reliable provider of affordable yet luxurious apartment hotels and guest houses located in the south Iceland. Amongst the reviews received include Trip Advisor; Icelandic tourism and culture magazine, Icelandic Times; and local newspapers Morgunbladid, and Dagskrain; and even via booking.com, homeaway.com, and the social networking site Facebook.
Through Trip Advisor, users posted their own experiences at Grimsborgir Guest Houses, which all were positive and favourable. Users were leaving headlines such as, "Luxury at affordable prices in the Golden Circle region", "Grimsborgir Guesthouse was Lovely and Remote", "Excellent accommodation and service!", and "A truly luxurious guest house" – This positive exposure for the newly established company ensures its trustworthy and honest service in a beautiful location.
The family owned company holds 6 houses in total alongside the magnificent river Sog and is proud to offer a top-notch service, including providing information about the area, transportation, guided tours, fishing and anything else one might need.
Grimsborgir Guest Houses is only a 25-minute drive from Thingvellir National Park, one of the most popular tourist destinations in Iceland. There are also various other incredible attractions and sights to explore, including the explosive geysir hot spring and the breathtaking gullfoss waterfall.
To learn more about Grimsborgir Guest Houses and its luxury guest houses in Iceland, visit http://grimsborgir.com/.