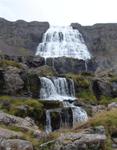 Self drive holidays in Iceland are the most popular way to experience the country and all it has to offer. Fortunately, the Icelandic travel provider, Nordic Travel is currently offering self drive tours which prove ideal for a holiday this summer.
A self drive holiday in Iceland allows visitors to experience the country at their own pace whilst at the same time catering to their own specifications and desires. The company can make all of the necessary arrangements for a self drive holiday including car rental, accommodation, and comprehensive route descriptions.
Nordic Travel offers a choice of economy cars, Hyundai i20, Hyundai i30, Suzuki Swift, Mazda 6 station automatic, Chrysler Town & Country, Suzuki Jimmy, Hyundai Tucson, Suzuki Grand Vitara, Toyota Landcruiser 120, and the Chevrolet Suburban – vehicles can be picked up at Keflavik Airport on arrival.
In addition to the self drive Iceland tours, the Icelandic travel company caters for trips of various lengths and interests with its main speciality being individual travel. Nordic Travel also arranges group tours and any other kind of travel in Iceland, including conferences, incentive tours and specialised group tours.
To book a self drive holiday in Iceland and to find more information about travel options, visit www.iceland-nordictravel.com.
Photo: Paul Kornaat