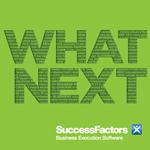 New SuccessFactors and Accenture research highlights characteristics of the next economy, and the link between strategic business alignment and staff productivity. The two companies commissioned independent technology Market research specialists, Vanson Bourne, to conduct the research.
The business research report, 'The Link Between Strategic Alignment and Staff Productivity', identifies three critical areas for determining failure or success within strategic alignment and staff productivity – Alignment & Collaboration, Performance & Productivity and Growth and Talent.
SuccessFactors is making the business research report and the accompanying white paper, 'Winners & Losers in The New Economy', available along with the opportunity to generate a performance and alignment report personalised for any organisation.
To generate a personalised report, a series of simple multiple choice questions need to be answered, which only takes a few minutes. The personalised report then provides you with both an Alignment & Collaboration and a Performance & Productivity score, as well as a position against the results discovered in the research.
The accompanying white paper by Erik Berggren, Vice President of Customer Results & Global Research at SuccessFactors, and Vinzenz Kremer, Managing Director and Executive Partner at Accenture, discusses the research findings and examines what will separate the winners from the losers; winners and losers will emerge not as a consequence of picking the right strategy but from aligning that scarcest resource, talent, to execute that strategy.
For more information about business goal management and to generate a report, visit http://the-next-economy.com. Additionally, for up-to-date information, follow SuccessFactors on Facebook and Twitter, or visit www.successfactors.com.