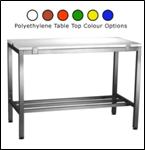 Teknomek, Europe's leading manufacturer of catering stainless steel furniture and equipment, offers a specialised range of stainless steel tables, fitted with replaceable polyethylene tops for colour coded chopping boards.
The stainless steel catering tables are typically used for areas where chopping or cutting takes place. The tables are available with the option of white (bakery and dairy), brown (vegetables), red (raw meat), green (fruit and salad), yellow (cooked meat) or blue (raw fish) tops.
The table frame is manufactured from 304 grade stainless steel to complement the table's hygienic integrity. The catering tables are offered in a range of standard sizes; all fitted with undershelves. However, Teknomek also offers a full customised service which means that customers can have non-standard sizes and specifications to fit their own particular requirements.
Additionally, the stainless steel manufacturer has years of room design experience and can help plan the layout of a professional catering area through the addition of its dedicated 3D design department. Teknomek also offers a complete costed 3D rendering of the final catering area design so the customer can actually see what the finished result will look like, removing the possibility of project delays and last minute costs.
For more information about Teknomek's catering tables and stainless steel catering equipment range, visit www.teknomek.co.uk, or for direct enquiries, call +44 (0)1603 788833.
About Teknomek
Teknomek is Europe's leading manufacturer of catering stainless steel furniture and equipment, providing high quality and cost-effective stainless steel solutions to industry hygiene requirements for the catering sector.