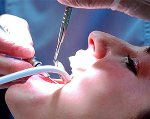 South Yorkshire dentist in Rotherham is providing its patients with a relaxed, anxiety-free experience during all of its specialist treatments including dentures and implants.
The Brecks Dental, Cosmetic & Implant Clinic endeavours to provide high quality dental care and first class service in its state-of-the-art practice, supported by an efficient, highly focused and friendly dental team.
The Rotherham dentist practice's staff is always keen to give new and existing customers a warm and friendly welcome, as well as being committed to providing education and information. Furthermore, the dentist in Rotherham also offers flexible opening times.
In addition, the Brecks Dental, Cosmetic & Implant Clinic offers DPAS Pay Monthly Maintenance Schemes, Corporate schemes for local businesses and other Finance Schemes including 0%, subject to status.
For further information regarding the Rotherham dentist, visit www.jameshull.co.uk, and for further enquiries, see the contact details below:
Address:
Brecks Dental, Cosmetic & Implant Clinic
298 Wickersley Road
Rotherham
South Yorkshire
S60 4JR
Phone number:
01709 468736
Opening Hours:
Monday , Thursday 0800 – 1800
Tuesday 0900 – 1800
Wednesday 0900 – 1930
Friday 0800 – 1700