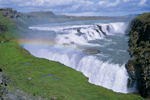 Iceland is the ideal place to experience a spring break with a difference. Around spring, temperatures start to rise and daylight increases; this blend of seasons will make this year's spring break in Iceland one to remember.
Iceland's capital Reykjavik has numerous bars and restaurants located in the downtown area. This varied choice of entertainment caters for everyone, from live music to eloquent dinning.
Not far from the capital is the popular tourist route called the 'Golden Circle'. During the route, visitors have the change to check out the beautiful national park Thingvellir; the breathtaking waterfall Gullfoss; and the geothermally active valley of Haukadalur, which contains the geysers Geysir and Strokkur.
If that isn't enough, enjoy relaxing in the geothermal spas at the famous Blue Lagoon about 40 minutes drive from Reykjavik and experience the positive effects of the Blue Lagoon's geothermal seawater.
Icelandair, Iceland's leading airline, has recently announced its 'Spring Special' package deal for UK travellers to experience the beauty of Iceland. Included are flights from Manchester, London Heathrow, or Glasgow, and three nights in selected accommodation; travelling between March and May.
For more information regarding Icelandair's 'Spring Special', visit www.icelandair.co.uk.