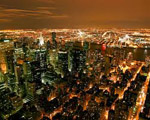 This winter, Iceland's leading airline, Icelandair is offering a stopover in Iceland at no additional airfare for all UK passengers booking flights to New York, as well as all other flights to the U.S. and Canada. Icelandair also prides itself in providing its customers with a comfortable and enjoyable flight experience.
Icelandair is renowned for ensuring maximum customer satisfaction on all of its flights by offering each passenger with sufficient leg space, complimentary drinks, a range of snacks and also free access to the touch screen in-flight entertainment system. The built in entertainment system allows access to a wide selection of movies, programmes, computer games, music and information on the scheduled destination.
Recent transatlantic passenger with Icelandair, Sarah Davies, commented on her experience with the airline, "Me and my husband were extremely surprised with Icelandair's services, we have travelled with other Iceland airlines before, but what made Icelandair stand above the rest was not only its reasonable prices but also its high levels of on-board entertainment and customer dedication."
Icelandair departs from UK gateways at Glasgow, Manchester and London Heathrow, for all flights to Iceland and to New York.
To find about more regarding Iceland's on-board entertainment, flights to New York and Iceland stopovers, visit http://www.icelandair.co.uk/