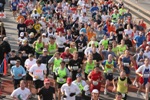 Vidar Sports Club, the organiser of Fokus Bank Oslo Marathon, has received a record number of registration for this weekend's event. Vidar expects close to 16,000 people from 71 different nations to run one of the distances covered; marathon (42,195 metres), half marathon (21,097 metres), 10 kilometres and three kilometres. If the forecasts for participation hold good, this event will set a new record for a street race in Oslo. The previous record is 14,192 runners set in 1994.
Fokus Bank Oslo Marathon, held on the last weekend in September annually, is Norway's largest street marathon. First staged in 1981, the race attracted a record 14 000 runners in 1994, but interest in jogging declined around 2000 and it was not staged in 2002-03. Due to this, in 2004 the organisation of the event was taken over by the Vidar Sports Club and now in its 28th edition is going to be bigger than ever.
Trond Mellingsaeter, chief executive of Fokus Bank, the strategic partner for the Oslo event commented, "Exercise, well-being and an active life help to ensure good health. That's important for creating a good working environment. We also see that a great many of our customers are concerned with an active lifestyle. We see this in part through the great attention being devoted by the Norwegian business press to active lifestyles, sport and exercise."
Fokus Bank is a branch of Danske Bank, which ranks as one of the Nordic region's leading financial groups with total assets of more than DKK 3,000 billion. With its head office in Trondheim, Fokus Bank has 41 branches and a total of 1,300 employees. As a strategic partner for the Oslo Marathon, Fokus Bank is working to continue developing the event in collaboration with the Vidar Sports Club.
Mellingsaeter added, "We've opted at Fokus Bank to become the strategic partner and sponsor of this event in order to help grow Fokus Bank Oslo Marathon from today's level to the vision of 50,000 runners. The fact that people can participate in a mini-marathon, a half-marathon and a full marathon also shows that we have a good family offer. That corresponds with our strategy as a bank."
Additional information about the Fokus Bank Oslo Marathon can be found at http://en.oslomaraton.no/
For further enquiries:
Nils-Jostein Helland, chair, Vidar Sports Club, athletics, mobile +47 93 48 45 18, e-mail: njh@skvidar.no
Tony Isaksen, chief executive, mobile +47 92 84 85 98, e-mail: tony@skvidar.no
Bjorn Langli, head of corporate communications, Fokus Bank, mobile +47 90 57 33 63, e-mail:bjorn.langli@fokus.no
Bjorn Richard Johansen, press service, Fokus Bank Oslo Marathon, First House, mobile +47 47 800 100
Hakon Gisholt, partly-sighted/RP-afflicted runners, mobile +47 95 75 65 87, e-mail:hakongis@gmail.com