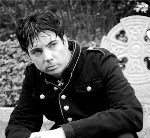 Artist:Dar.Ra
Album Release
Title:The Soul Hours
Label Kusha Deep Records
UK based Singer/Songwriter and Music Producer, started out signed to Chrysalis/EMI back in the nineties and achieved his first success with Taste of Paradise. The band had a couple of hits; one of which titled Reach Out, became an Ibizian dance classic as well as hitting the UK top 40. After hitting a number one spot with a tune called New Dawn in which he supplied the vocals, released under name of Bliss, Dar.ra got the offer to tour out in Australia. The tour lasted 2 years, as Dar.Ra got seduced by the lifestyle, however he didn't lay on a beach but spent it working in a box like studio with no windows and only came out at night.
As a result, he produced a fair bit of work for labels such as BMG and Festival Records scoring another top 40 with a band called Ultra Love Machine. Before returning to the UK, he produced an experimental album titled 'Breathe' featuring a host of Australian artists including Daevid Allen from the legendary Soft Machine and Gong.
Dar.Ra came back to the UK in 2003, setting up the Kusha Deep label in order to create a strong base from which his projects could thrive. The first release was called Majestic Retrospective covering the dance decade 1992-2002 which shows his versatility as a writer and producer.
The Soul Hours album is his latest release, 12 solid tracks drawing on earlier influences from legendary British rock acts like the Small Faces, The Who and Soul Aces like Otis Reading and Marvin Gaye. Writing, producing and performing the vocal duties on the album is Dar.Ra's tour de force and shows again what is possible on a micro budget and a desire to make something real.
The songs range from edgy rock tracks like Fearless which deals with the subject of going to War, questions patriotism in songs like Red White And Blue and tracks like The Pressure deals with the subject of being caught in the rat race. Other more radio friendly tracks like Fly 2 Night and Safe In Ur Arms have already become hits on some of the independent radio stations around the UK, being played on BBC Radio East to over a million people when Dar.Ra did a live session for Sue Marchant recently. The follow up single to Fly 2 Nite from the album, a track called 'Start Again' is a powerful rock/soul ballad which should help to break the album to a bigger audience when its released this summer.
Dar.Ra has just completed some very successful shows in a Theatre production called The M Boat where he played the part of a young Irish Boatman working the Barges of Dublin in the 50's. This experience has inspired him to write a script around the Soul Hours album in order to take the album out on the road without having to do the usual band routine of just playing the songs. 'I want to do something different, that will lift peoples spirits in a time when we need it the most'
In a time of throw away culture, this music is not disposable. The Soul Hours album is available through Kusha Deep Records and Itunes
Download Now On http://www.kushadeep.com
Or http://www.myspace.com/kushadeep
For further info email kushadeep@yahoo.co.uk or call ++44(0)7746605254