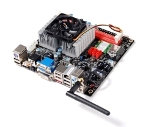 New ZOTAC ION with single and dual-core Atom processors and ION graphics processor deliver superior power efficiency with premium 1080p HD video and true-fidelity 7.1-channel audio
Dubai, United Arab Emirates, May 13, 2009 – ZOTAC International, an award-winning manufacturer of graphics cards and motherboards, today unleashes its first premium power-efficient all-in-one platform – the ZOTAC ION. The ZOTAC ION™ delivers a premium computing experience in a miniature mini-ITX form-factor.
Powered by a brand new NVIDIA ION™ graphics processor, the ZOTAC ION™ is ready to take on DirectX 10, OpenGL 2.1, NVIDIA CUDA™ and PhysX™ games and applications with its 16 blazing-fast stream processors. The ION graphics processor also delivers a premium Windows experience in Windows Vista and the highly anticipated Windows 7.
An integrated Intel Atom™ processor provides ample performance for daily productivity, email and web browsing tasks. Single and dual-core Atom™ processors power the ZOTAC ION™. A single-core Atom™ N230 processor delivers plenty of power for daily computing uses while an optional dual-core Atom™ N330 processor is available for those demanding more power.
"Achieving greater power efficiency while maintaining competitive performance was previously a hard feat to achieve. With the new ZOTAC ION™ platforms, we're able to deliver competitive performance with unmatched power efficiency," said Carsten Berger, marketing director, ZOTAC International.
NVIDIA PureVideo™ HD technology enables high-definition video playback on the ZOTAC ION™ platforms. With PureVideo HD technology, the ZOTAC ION™ is able to playback vivid 1080p high-definition movies smoothly and enhance standard-definition contents to near-high-definition levels.
A native HDMI output enables easy connectivity to the latest high-resolution monitors or high-definition television sets. The native HDMI output also supports high-resolution and true-fidelity 7.1-channel audio output when connected to supported hardware, enabling superior audio fidelity from movies with high-resolution Dolby Digital True HD and DTS-HD Master Audio audio technology. HDCP compliance secures the HDMI connection for playback of protected video content. DVI and VGA outputs are also available for multiple display connectivity.
"Home theater PCs are becoming popular around the globe. Our new ZOTAC ION™ is an instant solution for users seeking to build a HD video capable HTPC. Since the CPU and GPU are integrated on the board, we're also able design a fan-less cooler for the motherboard for silent operation" Mr. Berger added.
Integrated 802.11n wireless networking on Atom N330 equipped ZOTAC ION™ motherboards allow blazing-fast network connectivity at speeds up to 144 Mbps for high-speed wireless file transfers and high-definition video streaming. The Atom™ N330 equipped ZOTAC ION™ motherboard also features an onboard DC/DC power supply that delivers greater power efficiency than standard AC/DC power supplies.
"The onboard DC/DC power supply removes the need for a large internal power supply that is typically noisy and occupies a lot of space. With the onboard DC/DC power supply, the dual-core ZOTAC ION™ motherboard can fit into slimmer and more stylish mini-ITX chassis' with ease," Mr. Berger said.
ZOTAC stands by the quality of the ZOTAC ION™ motherboards and backs it with an extended warranty. With the ZOTAC extended warranty, the ZOTAC ION is guaranteed to be trouble-free throughout its lifetime.
General details
• New ZOTAC ION platforms
• Superior power efficiency
• 10x faster graphics and video transcoding
• Full 1080p HD video playback
• Windows Vista Premium capable and Windows 7 ready
• NVIDIA ION mGPU
• 16 stream processors
• Integrated Intel Atom N230 (single-core) or Atom N330 (dual-core) processors
• 533 MHz front-side bus
• HDMI (w/7.1-channel true-fidelity audio), DVI and VGA outputs
• HDCP compliant
• 2 DDR2 DIMM slots
• DDR2-667/800 compatible
• Up to 4GB of DDR2 memory
• Integrated DC-DC power supply (optional)
• Included 19V AC/DC power brick (optional)
• Integrated 802.11n WiFi (optional)
• Mini PCI Express slot (optional)
• Microsoft DirectX 10 and OpenGL 2.1 compatible
• NVIDIA CUDA™ and PhysX™ ready
• NVIDIA PureVideo™ HD technology
• ZOTAC Extended Warranty (visit www.zotac.com for details)
Specifications:
Product Name: ZOTAC ION (N230) ZOTAC ION (N330)
CPU Intel Atom N230 (single-core) Intel Atom N330 (dual-core)
GPU: NVIDIA ION™
Stream processors 16
Shader Clock 1100 MHz
Display Options: DVI, HDMI (w/7.1-channel Audio) and VGA
Memory support DDR2-667/800
Memory capacity 2 DIMMs, up to 4GB
Expansion 1 Mini PCI Express (optional)
SATA 3 SATA 3.0 Gbps (RAID 0, 1, 0+1),
1 e.SATA (3.0Gbps)
PATA NA
Ethernet 10/100/1000Mbps
Firewire NA
USB 2.0 10 (6 on back panel, 4 via pin header)
Audio Onboard analog 5.1-channel high-definition audio
7.1-Channel LPCM digital audio (HDMI)
DirectX support DirectX 10 with Shader Model 4.0
Other hardware features OpenGL 2.1 compatible, NVIDIA PhysX ready, NVIDIA CUDA ready, PureVideo HD technology, integrated 802.11n WiFi (optional), integrated DC-DC power supply (optional)
HDCP: Yes
Software Features: nView Multi-Display
Windows Vista capability Windows Vista with aero user interface compatible
About ZOTAC International (MCO) Limited
ZOTAC International is a part of PC Partner Ltd. Group. ZOTAC is also one of the largest NVIDIA add-in board and motherboard manufacturers in the world with over 10 years of quality manufacturing experience. The ZOTAC philosophy is to deliver the latest products at competitive prices without sacrificing quality.
For further information please visit www.zotac.com
Disclaimer
ZOTAC International (MCO) Limited does not warrant the accuracy, completeness or reliability of information, materials and other items contained on this website or server. No liability is assumed with respect to the use of the information contained herein. When accessing this website, users acknowledge that ZOTAC International (MCO) Limited will not be liable in any event for any damages arising out of the use of this site or any websites linked to it.
While every effort has been taken to ensure accuracy and completeness in the preparation of this site, we assume no responsibility for errors or omissions. Products shown in this site are provided for general reference purposes only. All product information herein is subject to change without notice.
Copyright 2008 ZOTAC International (MCO) Ltd. All rights reserved. All company and/or product names may be trade names, trademarks and/or registered trademarks of the respective owners with which they are associated. Features, pricing, availability and specifications are subject to change without notice.
Middle East Contact:
Nirmala D'souza
OAK Consulting
+971507343840
nimi@oakconsulting.biz